Gay Travel: 5 Reasons To Get Away This Labor Day
Story Courtesy Of Jim Werner / Gay Travel Destinations
The unofficial end of summer is approaching (how did this happen?). Don't let the long weekend pass without fanfare. Cities all over are celebrating in their own distinct–and maybe crazy–ways. Pack all your white clothes and head for one of these end-of-season festivities.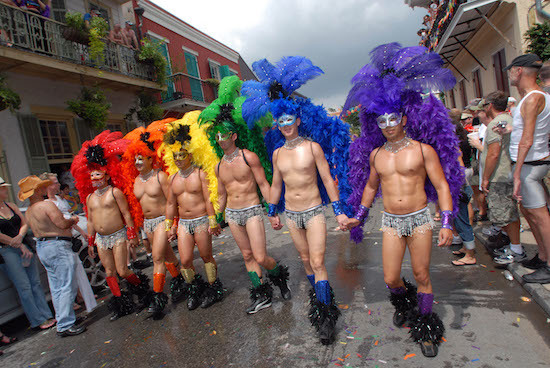 Southern Decadence photo courtesy of New Orleans Tourism Marketing Corp.
Southern Decadence
New Orleans, LA
August 27-September 1, 2014
Why not end the summer with an uninhibited romp through The Big Easy? Southern Decadence, the largest gay party in NOLA, is all the craziness you'd expect from New Orleans but taken to its gayest extreme. This annual circuit party challenges even the most accomplished partiers with events running around the clock. Without comment, I present this year's theme: "Under the Big Top – Welcome to the Gayest Show On Earth." (Big top!) (For more information on New Orleans, click here.)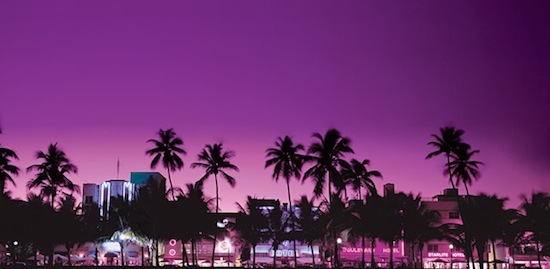 South Beach, Miami photo courtesy of Greater Miami CVB
Sizzle South Beach
Miami Beach, FL
August 28-September 1, 2014
South Beach, Miami. Pretty much everything you've heard is true. It feels more like the Caribbean or Latin America than the U.S. It's hot. Hot, hot, hot. Between the beach bods, the fashion, the clubs, and driving pulse of the city, it's an overwhelmingly exciting time. One party that keeps kicks it up to a new level is Sizzle. Once called Sex on the Beach, Sizzle draws the hottest black and Latino guys from South Florida and around the country for dancing and grinding. (For more information on Miami, click here.)
Lake Travis photo courtesy of Splash Days®
Splash Days®
Austin, TX
August 29-September 1, 2014
Austin is the capital city of Texas, though in many ways, it does not reflect typical Texas. The southwest city is quirky, progressive, and yes, remarkably gay-friendly. The residents of Austin pride themselves on being different, as the popular "Keep Austin Weird" slogan touts. So this Labor Day weekend if you're looking to get weird, wet, and wild, plan a trip to Austin's Hippie Hollow Park on Lake Travis for Splash Days. Tip: Pack light — it's the only park in Texas where you can legally tan your nooks and crannies. (For more information on Austin, click here.)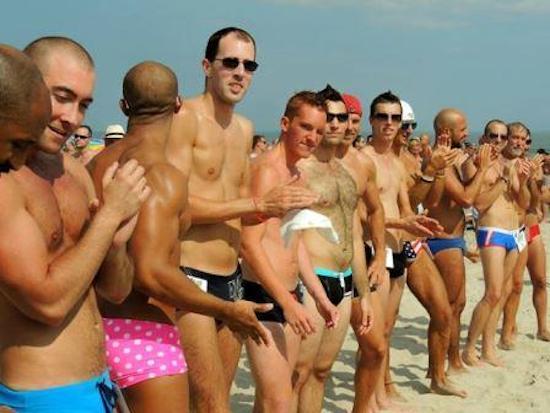 Mr. Gay Ogunquit 2013 Pageant photo courtesy of David Sullivan
Mr. Gay Ogunquit Speedo Pageant
Ogunquit, ME
August 31, 2014
Start exercising now. You'll want to be in tip-top shape for the Mr. Gay Ogunquit Speedo Pageant. There will be hundreds of people staring. No pressure. Actually, it's probably more enjoyable to be one of the staring people. Either way, it all goes down Labor Day weekend. In addition to six-pack abs, you'll see white sand beaches, dramatic cliffs, real-life evergreens, same-sex couples walking hand-in-hand. It's a regular Rockwell. Ogunquit lies about 90 minutes from Boston and 30 from Portland, so it's easy to plan a longer trip, though you may not want to leave the astounding beauty and irresistible charm of Ogunquit's four square miles. (For more information on Ogunquit, click here.)
Photo courtesy of Rehoboth Drag Volleyball
Drag Volleyball
Rehoboth Beach, DE
August 31, 2014
This quaint, one-square-mile town packs it all in: beaches, boardwalk, tax-free shopping and a surprisingly active nightlife, which specializes in open house parties. Practice your overhand on one of the ubiquitous beach volleyball courts in preparation for the 26th annual Drag Volleyball tournament on Labor Day weekend. Spectating is just as fun as playing, so no pressure. (For more information on Rehoboth Beach, click here.)
For recommendations on each of these destinations, and to book your trip, check out fagabond.com.
Other Gay Travel Articles:
Top 11 Los Angeles Queer Art Destinations!
Gay City Of Love: Paris, France