NYC Theater Star Mark MacKillop Strips Down For Sexy 'Rm. XIV' Selfie Book
Story Courtesy Of Curtis M. Wong
New York performer Mark MacKillop offers musical theater fans a provocative peek at the offstage life of a working actor in his coffee table book, Rm. XIV.
The new book comprises 80 black-and-white selfies of MacKillop in various stages of undress, shot in various hotel rooms around the world while he was in the midst of an international tour of "West Side Story" last year.
Check out a shot from the new book, then scroll down to keep reading: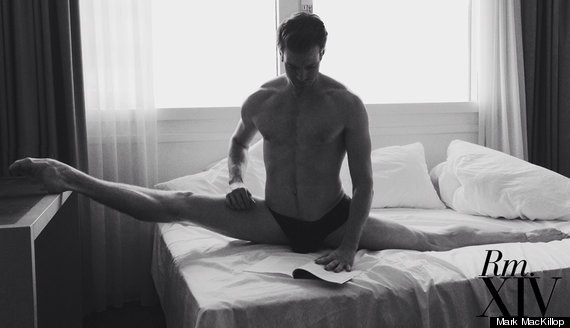 Though the steamy images will no doubt set pulses racing, MacKillop sees Rm. XIV as capturing "physicality, composition, reflection" as opposed to being intentionally scintillating.
"Because I had so much downtime in each of my hotel rooms in the cities I was performing in, I used the photos as a way of connecting with friends who I was separated from to give them a unique, intimate look at my life on the road," MacKillop, who originally hails from Canada, told The Huffington Post. Noting that he shot all of the images on his iPhone with a self-timer app, he added, "I definitely wouldn't call myself a photographer. I would just call myself an artist exploring in various mediums."
MacKillop, who is openly gay, said the photos also represent a very personal journey, and were partly inspired by Tom of Finland in addition to his own ballet and modern dance training.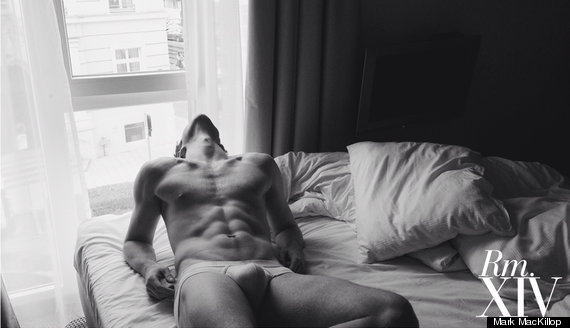 "It's interesting looking back at these pictures and seeing where I was and where I've come," he said. Touring in a musical, he noted, "helped to break down a lot of walls I had built up, and really opened [me] up as a person."
Having performed in the 2014 installment of "Broadway Bares," MacKillop will donate a portion of the proceeds from Rm. XIV to Broadway Cares/Equity Fights AIDS (BC/EFA). In addition, the book will feature an introduction by Tony Award-winning "Kinky Boots" star Billy Porter and a foreword authored by New York artistRobert W. Richards.
You can read more about Rm. XIV here.
Related Stories:
PHOTOS: These Sexy Men Love To Strip Down For A Little Pup Play
Top 22 Pics From San Francisco Furries Frolic!